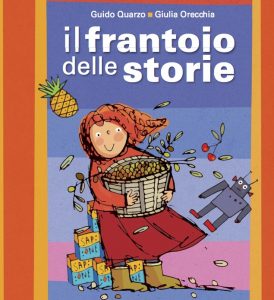 The Il Frantoio delle Storie food education project is the result of commitment made by the Istituto Nutrizionale Carapelli, which for years has focused on diffusion of the nutrition importance of olive oil and, more in general, of a correct diet, in collaboration with Giunti Progetti Educativi, Ellesse Edu and with support from the Ministry for Education, University and Research.
---
TARGET
Created in 2007 for third and fourth year primary school students, teachers and families, the project initially involved just some target regions in Italy:Piedmont, Tuscany, Umbria and Campania.Given the enthusiastic feedback from schools, it was then repeated until the 2013-2014 academic year, involving all primary schools throughout Italy.
During the five editions of the teaching project, 5,793 teaching kits have been distributed, directly involving:
5.711 classes;
116.557 students;
3.859 teachers.
---
OBJECTIVES OF THE PROJECT
The project mainly aims to promote correct diet and positive lifestyles, intended as all the results-bringing behaviour that together creates and, over time, maintains balanced health in each individual.
The project therefore has the following aims:
To transfer to children the concepts of a healthy diet with special reference to oils and fats.
To make their senses work. together with their ability to develop greater awareness of the importance of correct diet;
To spread knowledge of the world of olive oil, associating its consumption with a correct lifestyle and diet, paying particular attention to the problems of child obesity, also through popularisation of scientific material by the Istituto Nutrizionale Carapelli.
---
TEACHING MATERIAL
Classes taking part in the Il Frantoio delle Storie project received a free teaching kit containing:
25 children's books with stories by Guido Quarzo, containing multidiscipline activities edited by Giorgio Donegani and illustrated by Giulia Orecchia;
1 teacher's DVD with detailed notes by Istituto Nutrizionale Carapelli nutritionists;
1 Poster with instructions on how to take part in the competition linked to the project.
---
THE COMPETITION
A competition with prizes was linked to the teaching project, aiming to develop what the children had learnt, reworking it in a fun-teaching activity that stimulated their creativity.
The classes were asked to invent a story featuring olive oil, using keywords taken from some of the tales in Il Frantoio delle storie.
In 5 years of educational project, 51 classes were selected from those who had written the best stories, and their prizes were well-stocked libraries of scientific books.