Olive Oil & Sustainability: a future forward
Students offered scholarships in olive oil research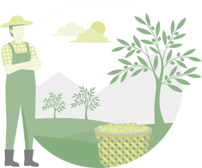 Istituto Nutrizionale Carapelli Foundation – a non-profit organisation that promotes this research in olive oil science – is pleased to announce the availability of four scholarships, each worth 6,000 euros, to graduate or undergraduate university students in developing countries who are involved in research on olive oil.
Two scholarships will be granted to two outstanding projects aimed at enhancing sustainability in the production of olive oil. The other two will go to project specifically focused on human health.
Regulation available at the link below. Application and document to be sent in English via mail to: istituto.nutrizionale@carapellifirenze.it by February 15th, 2023.
Submissions will be reviewed by the Scientific Committee of the Istituto Nutrizionale Carapelli and selection will be done according to specific criteria that include originality, previous experience, technology readiness, and project's potential for providing novel data within a reasonable timeframe.